In the past months we've been adding new features and Oculus Rift and Razer Hydra support in RUIS for Unity. Our just released TurboTuscany demo showcases the new capabilities of RUIS:
Video part 2:

TurboTuscany features a 1st person view with a Kinect controlled full-body avatar and 4 methods for six-degrees-of-freedom (6DOF) head tracking:
Oculus Rift + Kinect
Oculus Rift + Razer Hydra
Oculus Rift + Razer Hydra + Kinect
Oculus Rift + PlayStation Move (+ Kinect)
It makes a difference to see your own body in the virtual world, affecting the sense of presence. Those of you with Kinect: Try pushing and kicking stuff, or even climb the ladder with your hands. You can take steps freely inside Kinect's range, and when you need to go further, just use a wireless controller to walk or run like you would in any normal game. We are blending your Kinect captured pose with Mecanim animation, so while you're running and your feet follow a run animation clip, you can still flail around your hands and upper body as you like.
(Kinect users will need to install Win32-bit version of OpenNI 1.5.4.0. See the readme that comes with the demo for other details.)
Positional head tracking with Kinect alone is quite rough, so try the Razer+Kinect or PS Move option if you can.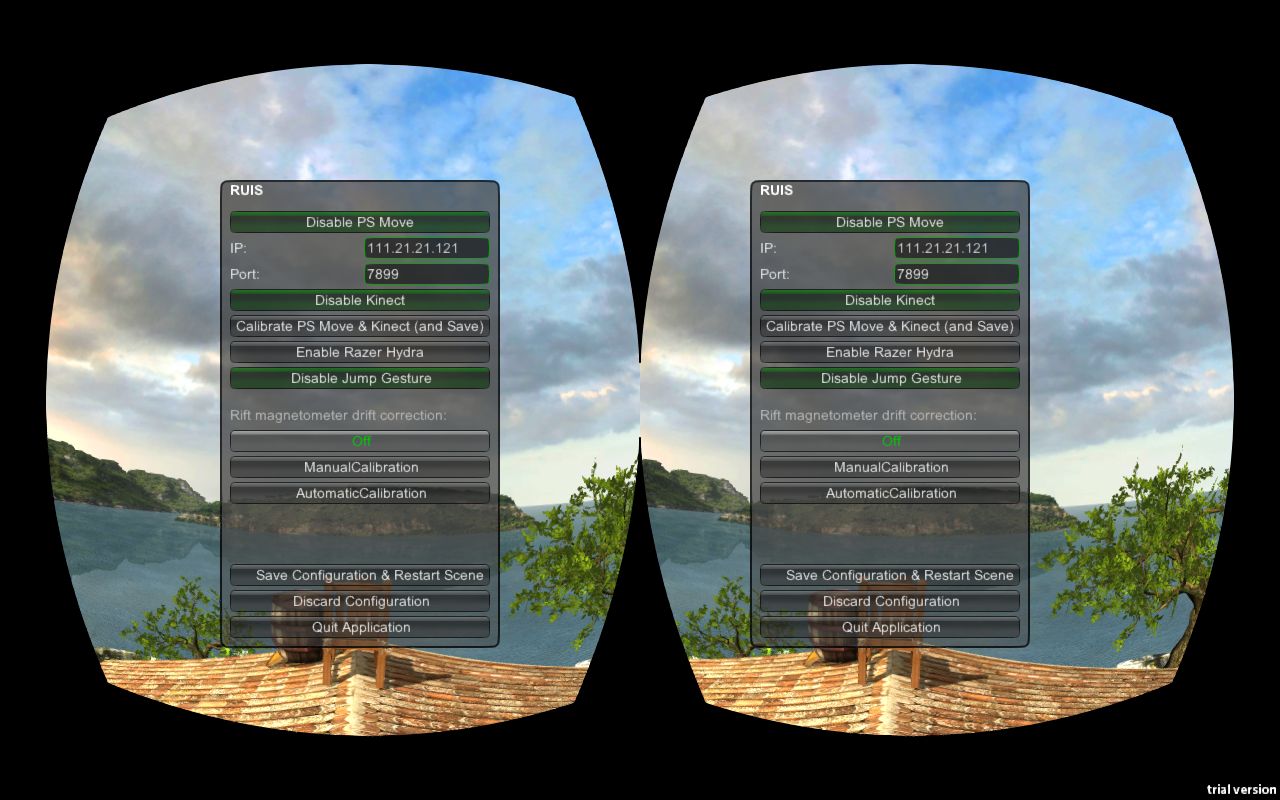 Minimum requirements
Oculus Rift
Windows operating system: Vista, Windows 7, Windows 8 (see comment section for details)
Supported input devices
Razer Hydra
ASUS Xtion Pro, Kinect for Xbox, (Kinect for Windows?)
PlayStation Move and PS Navigation controllers (Move.me software and PS3 required)
Gamepad (any Unity compatible gamepad or joystick)
Mouse and keyboard
This demo should be pretty fun to try out even with just mouse and keyboard. There's several physics based activities, and we've hidden a bunch of Easter eggs in the scene.
Download links:
https://drive.google.com/file/d/0B0dcx4DSNNn0UEF0U2RMblNjelU/edit?usp=sharing
https://dl.dropboxusercontent.com/u/8247026/TurboTuscany101.zip
http://www.mediafire.com/?77ardrkg4okwhua
1080p version:
https://drive.google.com/file/d/0B0dcx4DSNNn0T2NaRFdNekkwUXM/edit?usp=sharing
Within a month or two we will release a new version of RUIS for Unity that will have all the features that we used to create TurboTuscany demo.